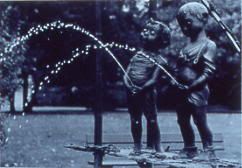 In the signs of summer department, the issue of children going wee-wee in the streets of Park Slope has returned. The tale comes from lnelson on Brooklynian and makes a perfect counterpoint to the Dog with Runs item. Here we go, so to speak:
OMG, I was walking my dog yesterday on 5th between 14th and 15th and there was a kid peeing into the street. It was early evening, still light out, lots of people around and stores open, and this kid is just standing there and peeing onto someone's tire. I'm guessing the kid was about 7. He was not a little tiny kid. An adult man who I'm guessing was in some way affiliated with him, maybe his father, was standing behind and watching as this kid just took care of business. There was nothing subtle or protected about this scenario, all was bared for passers-by to see.
Some of you may recall that I wrote about a similar al fresco peeing event a couple months ago (in "*unorthodox* father-son bonding observed on 14th street"). I've lived someplace my whole life, as in been alive and dwelling somewhere, often in places that were populated by other people, some of them children. Yet I never saw a single street pee-er. Now I've seen two in the same neighborhood (the February "event" was 14th between 7th and 8th).

Um, ew? I see there are plenty of things one can say to a dog owner who leaves poop on the sidewalk…What might one say to an adult whose apparent ward is micterating on the street? "Um, sir, your apparent ward is peeing on the street" doesn't seem adequate when the dude is standing there and watching. Thoughts? Suggestions? Similar experiences? PS, Yes, I recognize the slight irony of the fact that I was walking my dog at the time.