This week, Eat It: The Brooklyn Food Blog takes us to our Number One Favorite Brookyn Restaurant, Dressler on Broadway in Williamsburg: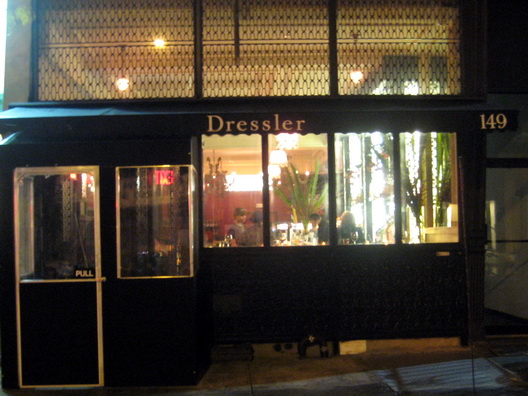 It was my birthday recently and my parents took me to Dressler (149 Broadway, 718-384-6343) to celebrate. I was looking forward to it, having heard such good things about the food there. Everything I had heard was true; our experience was SO nice, down to the smallest detail (like the claim check you receive if your leftovers are wrapped up, which you then pick up at the bar on your way out). The service was attentive but unobtrusive, the food was delicious and carefully prepared and the room was grand yet warm, with high ceilings, pretty iron work around the wall lighting and incredibly ornate chandeliers in the dining room. We were seated at one of the booths that line the right side wall.
My mom and I shared a plate of 6 oysters, three of each variety (Wellfleet and Bluepoint). The Wellfleet had a fuller flavor than the Bluepoint, brinier and saltier with a slight metallic taste, but both were fresh and delicious, especially with the horseradish and onion sauce that accompanied them. Such a treat! We also shared a Smoked Trout appetizer that came wrapped in crepes. This was unbelievably flavorful yet delicate at the same time. The fish was smoky, almost meaty, and came dressed in a perfectly creamy, tangy sauce. This was then topped with a small salad of frisee & micro greens. For Pork Shank, Steak and Cod, click here.